Set in the lovely little village of Dean on the edge of the Lake District, the self-contained studio accommodation is a cosy snug with everything you need to relax and unwind. Located just a few miles from Loweswater and Crummock, great lakeshore walks and spectacular year-round views allow you to immerse yourself in nature.
Nestled in the eaves of an old barn, skylights bathe the compact but well-equipped studio with plenty of light and air. The main room provides a comfortable double bed, a small sofa and TV, and a fold out dining table; while the en-suite bathroom has a toilet, sink and shower.
*Please note that the stove is not in use so you cannot have a fire.
A small kitchenette provides all you need to prepare some simple meals, with a fridge, kettle and toaster, 2 electric rings, a microwave /oven grill, crockery and utensils.
Downstairs, at the entrance to the barn, a comfy reading spot bathed in natural light looks out over a small private patio area, with a BBQ and outdoor furniture provided for those warmer summer nights.
You will also have access to our field located behind the neighbouring house. The field has beautiful views towards the fells to the south with wide open skies and the picnic table is the perfect spot to experience the stunning sunsets as the sun sinks down behind the Solway Firth. A massive old tree sits at the top of the hill with a presence that can be felt through the village.
A rewilding project means the grasses are long and the wildflowers increasing in number. You can hear the insects buzzing and watch the swallows swoop low over the summer months feeding on the variety of insects below. The field is thought to be the site of an old roman fort and old archery mounds and ancient fishing trenches can be seen in the neighbouring field. The lumpy bumpy hill with the tree on top has many little dips and craters, which are perfect spots to sit and lose yourself in meditation and contemplation, or simply sit letting your mind wander with the sounds of nature buzzing around.
It's a lovely spot anytime of day: for an early morning coffee with the birds; an afternoon of relaxing; or an evening of watching the barn owl and bats that visits at dusk as the day gives way to a night of brightly twinkling stars.
Self Catering
The retreat is a self-catered retreat. There are lots of great local pubs and restaurants that you can eat out in – I have highlighted our local village pub on the map as well as my personal favourite which is the Kirkstile Inn at Loweswater. If you would like more information on local places to eat I am happy to provide this for you.
Our aim is to make the self-catering as easy as possible so we provide a larder of useful ingredients that you may need in a small amount when preparing a meal. I have also included below a basic inventory of the kitchen cooking facilities so that you can plan meals ahead (Please note there are only 2 hob rings available). 
Larder
White wine vinegar, Red wine vinegar, Cider vinegar, Balsamic vinegar
E.V. Olive oil, Olive oil, Rapeseed oil, Sunflower oil
Chilli powder, Paprika, Cumin, Turmeric, Ginger, Garam Masala, Curry powder
Thyme, Coriander, Oregano, Tarragon
Salt, Pepper, Granulated Sugar, Soft Brown Sugar
Soy Sauce, Worcestershire Sauce
Dijon mustard, Wholegrain mustard, Corn flour, Baking powder
Beef, Chicken and Vegetable stock cubes
Cooking facilities available – 2 hobs, small oven / grill, microwave, fridge with small freezer section at the top, toaster, and kettle. The kitchen has a good supply of cooking equipment and utensils with a range of different size pans and dishes, baking trays, jugs and salad bowls etc to enable you to cook a substantial meal. Crockery and cutlery are provided with cups, glasses and a Cafetière for your morning coffee. Prior to your stay I will email a complete list of the equipment available and if there is something that you need that is not on the list – please ask as I am sure I can provide it.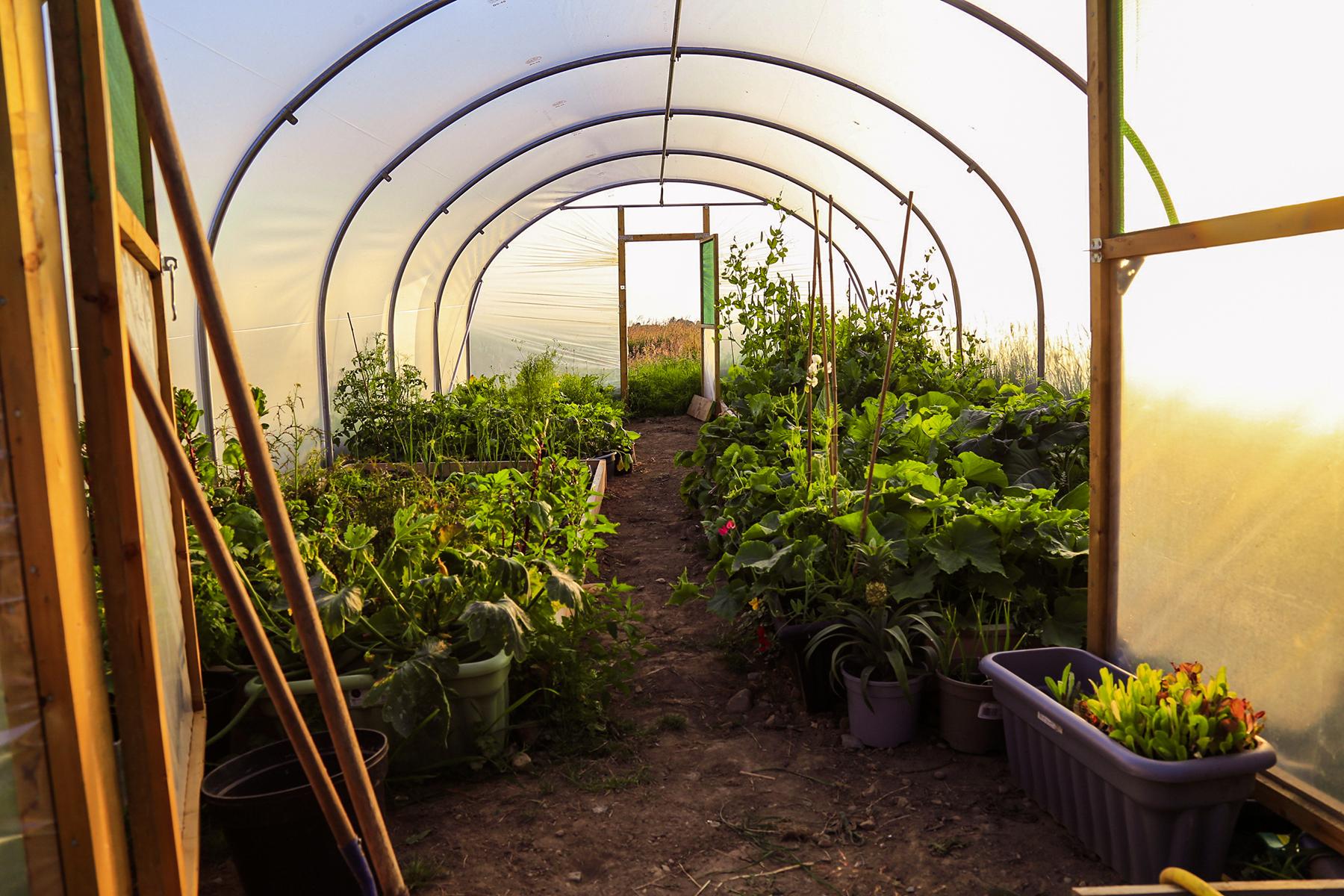 Polytunnel – Home grown produce
We also have a polytunnel where we grow a variety of salad leaves, radish, beetroot, peas and beans etc. Upon your arrival I will take you down to show you what is currently available *this will depend on season and stage of growth. You may help yourself to salad leaves etc as well as a range of herbs. During raspberry season we have excess raspberry growing in our garden which you can also help yourself to. We have chickens on the field so we will provide you with fresh eggs upon your arrival.
Shopping
The local town of Cockermouth has several supermarkets where you can shop in store – Sainsburys, Lidl and Aldi. (See map for location of Cockermouth). Open 7 days per week.
Cockermouth also has a range of bakers, butchers and fruit and veg shops if you prefer to shop local. * Please note that these will be closed on Sunday.
Locally 2 supermarkets do local online delivery  –
Tesco   https://www.tesco.com/groceries/
Sainsburys   https://www.sainsburys.co.uk/shop/gb/groceries/discoverhome/shopping-online
Our address for delivery is Hill Top Cottage, Dean, Workington, Cumbria, CA14 4TJ. If you wish to arrange a delivery prior to your arrival you can contact me to arrange a suitable time and I am happy to take receipt of the shopping and put it in the studio accommodation for you.
The Wellbeing Studio
The wellbeing studio is just across the road from your accommodation and is a dedicated room within my home with a separate entrance for guests. This is where the Reiki treatments, EFT and breathwork will take place.